Why Real-Time Tracking is Essential for Efficient Supply Chain Management
With the massive increase of online shops and shoppers in the digital marketplace, the number of shipping and delivery options also grows. Online consumers enjoy being able to track their packages and watch as they get closer to their destination. Apart from the serotonin boost, it gives the customers waiting for their parcel.
Why is real-time tracking essential, especially in having a more effective supply chain management? Read on to find out.
What is Real-Time Tracking?
A real-time tracking system, sometimes called Real-time locating system (RTLS), is a tracking method that utilizes or uses GPS together with logistics databases to track or identify the exact track and location of any parcel at any given time.
The collected data, through the help of GPS and logistics databases, are updated in real-time for immediate access and assessment. The process of real-time tracking allows the customer to obtain information about the whereabouts of their parcel in the whole supply chain.
Keeping track of the packages released by the company brings a lot of impacts not only on the company's reputation but also on the effective management of its supply chain.
The primary objective of real-time tracking is to provide transparency so necessary alternative routes can be taken when dilemmas and problems occur.
Supply chain management (SCM) includes product development, sourcing, production, and needed information systems and logistics to coordinate these activities. A chain and network of suppliers are made to manage the supply chain that transports products, raw materials, and suppliers.
How Does Supply Chain Management Work?
Supply chain management encompasses all aspects of the manufacturing process, from the procurement of raw materials to the delivery of finished items. Keeping operations operating smoothly is an essential part of supply chain management to provide customers better value and stay ahead of the competition.
According to supply chain management (SCM), most products on the market result from many companies working together to produce them.
Contrary to popular belief, firms are now starting to recognize the importance of supply chains as a strategic asset. Using supply chain management, businesses can deliver goods faster, guarantee that items are always accessible when required, eliminate quality concerns by doing regular quality checks, and make returns easier, eventually increasing value for both the business and its consumers.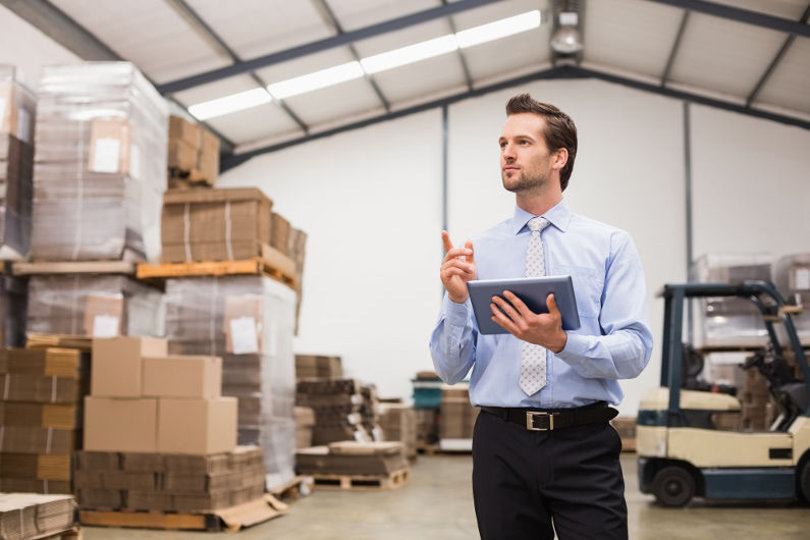 How Can Real-Time Tracking Help Improve the Efficiency of Managing the Supply Chain?
Real-time tracking of any parcel or package delivery plays a vital role in the whole supply chain management.
It Reduces the Risk of Loss
Having real-time updates regarding the parcel's precise and accurate location can help identify whether the package is going through heavy traffic or delays. Through this, alternative routes, solutions, and other necessary measures can be taken to handle the traffic.
On the company's end, the supply chain is also being monitored by the corporation's stakeholders.
Real-time tracking provides transparency and accurate information, which improves the reliability and good reputation in both the customers' and the stakeholders' mentality.
When deliveries are delayed, the company's following the best alternative route would also leave a good and better impression regarding the company's handling and management of a crisis.
It Enhances Effective and Productive Decision-Making
A supply chain manager must have good decision-making skills in taking movement or decisions related to the company's goods and services.
Gathering the necessary information from the real-time tracking and assessment of these data will help the decision-maker identify the best solution or alternative way to the problem.
In line with the reduction of loss, real-time tracking also improves the ability of a company to arrive at a sound decision when delays occur.
Since real-time monitoring allows the company to find issues in no time, the company will be able to manage the problem and provide profoundly suitable solutions promptly before the situation worsens.
A deliberate method of processing the data obtained through real-time tracking will define alternatives and organize the information into thoughtful decisions.
Having a sound judgment amidst the technological errors and delays would also bring about good impacts and impressions of the company to the stakeholders, clients, and future customers.
On the other hand, arriving at a wrong and inappropriate decision can result in adverse consequences, even risking existing customers and clients.
It Practices Transparency and Improves Customer Service
Customer service is among the most pivotal components of the logistics and the management of the supply chain. Without customer service, the company would be unable to attract customers and sell its goods and services.
Real-time tracking would practice transparency, which in turn produces trust and goodwill. Aside from this, it also protects the company's reputation among its business partners, prospects, investors, employees, and stakeholders.
Transparency also leads to better customer service since the customer would prefer to be involved in the overall process concerning their product. Customer service plays a vital role in improving the supply chain.
Good relations with the customer through exemplary customer service would also create a good image for the company.
What Do These Mean?
In a general sense, real-time tracking would improve the supply chain management efficiency since most customers value transparency as it is typically associated with openness and honesty. In addition to this, any crises that will arise during the shipment process will be immediately determined and resolved.
Despite being deployed in several places, having real-time tracking through GPS still allows the company to have direct control and management over the vehicles carrying the parcels.
Together with increased productivity, this also reduces other costs that may be triggered when problems arise. As a result, comprehensive supply chain management would become more efficient and effective.
Conclusion
Efficacious supply chain management primarily relies on precise and fast-tracking products, from raw materials to goods or services. Information and data concerning the parcel's whereabouts benefit the customer, company, and stakeholders. Thus, companies need to have a reliable and transparent shipping partner.
Tive allows you to track your packages through GPS anywhere in the world. With transparency as our priority, Tive would lessen your worries and boost your excitement in waiting for your order to reach your doorstep.
Eight Types of Company Missions These Entrepreneurs Think Are Vastly Overrated
What's one example of a common company mission that you think is overrated, and why? What should replace it?
These answers are provided by Young Entrepreneur Council (YEC), an invite-only organization comprised of the world's most successful young entrepreneurs. YEC members represent nearly every industry, generate billions of dollars in revenue each year, and have created tens of thousands of jobs. Learn more at yec.co.
1. Statements That Mention Being the 'Best'
The missions that correspond to being the "best" are generic and overrated. Being the best there is at what you do is the pinnacle of success. If you get there, what's next? Businesses don't grow when they pursue excellence. They grow by making mistakes, learning from experiences and doing better next time. So, seeking continuous improvement can be a good replacement.
2. Missions That Aren't Measurable
Generally speaking, any mission statement that isn't measurable can cause problems for your business. If you can't track your progress, your statement is nothing more than words on paper (or a screen). People are more willing to get behind mission statements that focus on tangible long-term goals or aspirations.
– John Brackett, Smash Balloon LLC
3. Statements That Could Apply to Any Company
Many mission statements contain generic terms that could apply to almost anyone. A common example is "We provide the highest quality service," which is an admirable goal but doesn't really tell you anything about what they stand for or how they deliver it. Terms such as "integrity," "excellence" and "industry leaders" are similar. It's better to pinpoint something more specific that you deliver.
4. Phrases About Pursuing Excellence
"We pursue excellence" is generic and overrated — not to mention, the definition of achieving excellence may vary from one person to another. What will be the metric for achieving excellence? No one knows, as not everyone in your company is on the same page. So, replacing this mission with measurable indicators like sign-ups, conversions and other growth metrics would be a good idea.
– Stephanie Wells, Formidable Forms
5. Missions That Mention 'Social Impact'
Many companies use the phrase "social impact" in their mission statement, but the impact is rarely evident. For example, a clothing store may mention that it is committed to helping women in poverty, but it will still charge the same amount for its T-shirts. Instead of writing a mission statement, a company should inform customers about how they are helping the world.
6. Missions That Call for Perfection
Nothing is perfect! I'd rather see a mission that pushes others to embrace imperfection and to strive harder to be better every day, knowing that there is such a thing as a bad day. The best thing we can do is to stop aiming for perfection and just be better than yesterday.
– Daisy Jing, Banish
7. Statements That Don't Mention Your Industry or Purpose
I think mission statements that don't directly mention your industry or what your business does can do more harm than good. Failure to mention these details makes your message seem more like a fluff piece than an actual long-term goal for your brand. Instead, brand leaders should focus specifically on how their company will help the industry evolve.
8. Missions That Lack Connection
Companies should be able to use their mission statement to connect with their target audience. However, I have seen a lot of companies create mission statements that are too broad and generic. For example, "Helping businesses grow" is far too generic and does not connect with anyone. However, if it was "Helping small businesses grow with our marketing services," it would connect better.
– Sujay Pawar, Astra
Want to Start a Business? Read This First for a Reality Check!
Are you going to start a business and looking for some ideas and tips? Well, you are reading the right blog post, as I will tell you what you might not want to hear, but at the same time, I will give you some reasons why you want to start a business you love – with the right mindset.
I've heard some cynical comments about entrepreneurs and entrepreneurship; one comment says that entrepreneurs are, well, becoming one because they simply can't get a real job. Another one says that entrepreneurs are a group of people who use their parents and/or everyone else's money to start a business and have fun with it without thinking of returning any of it.
Some say that entrepreneurship is easy – just get a product people want and sell it for a profit. Right. Some say that entrepreneurship is overrated – you won't make more than a decent paid job. Right.
It's sad, really… those naysayer just don't realise that entrepreneurs and small business are two of the most prominent factors that make the economy moving. Just ask the mentors and experts about what a community could do if small business is not supported by the Government: Crippled. Then the butterfly effect kicks in, and eventually the whole economy of a nation is brought down just because investors, entrepreneurs and business owners are not well-supported.
Yet successful entrepreneurs thrive despite all the unfavourable policies, the naysayer's boos and jeers, and the non-supportive friends and family, who laugh at their ideas of starting a business out of their garage.
If you are considering entrepreneurship, are you ready for such pressure? You will somehow face people who question your decision jumping into the entrepreneurship bandwagon. The worse part is, those who doubt you often your closest ones – your spouse, your parents, your friends…
Are you ready?
Startups are not for the faint-hearted
We can't deny the fact that many startups are bound to fail. Well, did you know why many startups fail? There are thousands of reasons, but one of the reasons that I think as the main cause of startup failures is false hopes.
If you are thinking of running a business as traveling all over the world at will, riding a limo sipping champagne, or doing whatever you like in your pajamas or swimming suit – I apologise, but I need to pop your balloon.
Stop dreaming. Start looking into the reality. Entrepreneurship is not easy and if you don't have what it takes to get a business launched and navigate your vessel through the storm, you'd better get a job.
Entrepreneurship requires to be able to juggle and decide on many things: Balancing your work-life; deciding from many strategic options; choosing between a list of suppliers; and so on. Initially, you need to be able to wear many "hats" – bookkeeping/administrative, marketing, development, production, procurement, and so on.
You need to be open-minded and be prepared for open-ended outcome of your decisions; you need to be ready for any circumstances requiring you to re-focus and re-strategise in the middle of your plan.
And those perks you are having while working for a boss, you don't have them when you are an entrepreneur: Paid leave, managed retirement planning, and so on. You are literally on your own, supporting yourself with your own resources.
Whether you are a solopreneur or the owner of multi-business ventures employing thousands of staffs while running yours while having fun doing so (like what Sir Branson is doing,) "hard work," "perseverance" and "delayed gratification" are three of the main "keywords" defining all what entrepreneurs are doing.
Indeed, entrepreneurs are hard worker and passionate about their business. What keep them going is their passion for what they do and their love for everything entrepreneurship, starting up and business ownership.
If startup is so difficult, why people are doing it?
Yes, this question is asked by many who are interested in entrepreneurship. This question might be your question.
It's a fair question: With all the hurdles you need to take on if you are plunging yourself into entrepreneurship, why bother starting up?
There are many answers, but if you asked me, my answer would be this: I love this game.
I love the search of business ideas. I love the many sleepless nights working on my business to see it grows steadily. I love the possibility for me to create something useful for the community – while giving me the lifestyle and financial independent I want for my family. I love the ups and downs of running a business – sure, failing sucks, but I can learn a great deal from it personally and professionally.
I wouldn't trade what I am doing right now (work at home, surrounded by the people I love) with any high-paying jobs requiring me to work 12 hours a day or more; I love the freedom money can't buy. I love a business that is built around my lifestyle, not the other way around.
Of course, I don't love ALL aspects of my business: I don't fancy the back office operations – bookkeeping, administrative and so on – but you can always hire someone competent to do those for you 🙂
Takeaway
Indeed, entrepreneurship is one of the most risky careers of all. Well, if you want safety and security, just get a job. But if you love the unknowns and embrace risks, entrepreneurship is a path worth walking; it's rewarding in every sense – financially and emotionally.
So, now you know some facts about entrepreneurship. I do hope you can start a business with the right mindset; I also hope you start your journey with humility; being passionate without arrogance; taking calculated risks, not gambling; eagerness to help others when you have finally reached the top; acknowledging the fact that without God and those people around you – friends, family, fellow entrepreneurs, mentors, investors, etc. – you won't go far.
Dream big. Start small. Just do it, seriously!
Measuring the Health of Your Personal Finances
Measuring the health of your personal finances can be as simple as evaluating four simple parts about your personal finances including the way that your money is spent and the methods that you are employing to prepare yourself for the future. Use these aspects to take an evaluation of your personal finance situations and begin to learn the techniques required to up the health of your personal finances.
How Much do you Owe?
It is important to determine how much money that you owe in debts. The importance of the total number is sometimes surpassed by the interest rates and terms at which the debt has been accumulated. Are you facing a cycle of debt living paycheck to paycheck and using additional sources of credit to repay outstanding debts? It is important to take a plan to get out of the cycle of debt; if you have found yourself becoming overwhelmed.
Establishing a solid repayment plan that includes fifteen percent of the income, every single month to the debts in the order of most expensive to least expensive is techniques that all debtors should take into account.
Are You Living Paycheck to Paycheck?
Are you unable to find room within the budget to establish a savings account and find all of your money being spent before it reaches your pocketbook? If so, than you are more than likely one of the thousands of consumers that are living paycheck to paycheck – and this is an unhealthy indicator of your finances.
Attack your debt with a solid plan and find ways to increase your income to establish a savings account to increase the health of your finances. Use strict budgeting skills for at least one month to establish a little wiggle room in the personal financial situation and get out of the trap of living paycheck to paycheck.
Are You Spending More than You Earn?
Living outside or above your means can often be an indicator that sometime in the future the finances will be in jeopardy. When a consumer spends more than they make, this money must come from somewhere. Many people use credit to cover the shortfalls in income, which can lead to drastic mistakes being made in the finances and debt being accumulated faster than the consumer realizes. One day, many consumers wake up and realize that they are shocked to living within their means as they have run out of credit.
Go over your finances and create a budget that allows you to spend less than you earn to increase your financial health.
Have you Established a Savings Account?
An emergency fund or savings account is an essential part of the health of your finances as it in part determines the security of your future.
A savings account should be established with at least ten percent of the income every single month, which should be deposited into a high interest savings account. This money can provide an alternative to credit card use and earn money rather than charging the consumer money through the use of expensive credit cards.
Experts recommend that individuals and families have three to six months of expenses saved within the emergency fund to become truly financially healthy. Does this inspire to you start saving?