How to Deliver The Best Customer Experience in 2022 and Beyond
To understand the importance of delivering a great customer experience, just think back to the last time you had a good experience.
Chances are it left you feeling valued, happy you'd chosen the company you did.
It likely wouldn't have even bothered you if you were paying more for the product you wanted because the experience made you feel like it was worth it.
If the idea that your customers would pay more with you for simply providing a better experience sounds far-fetched, consider this research from PwC.
They found that 86% of customers are willing to pay more for a better experience.
Not only that, the more expensive the item they're buying, the more they're willing to pay for the better experience.
Today the customer experience is right at the top of customer priorities along with price and product when choosing who to buy from.
Many businesses understand this too.
It's why so many are investing in improving the customer experience and in technology that can enhance the way customers contact them.
But, what can you do to improve your customer experience and what should you be focussing on in the next 12 months?
Let's see.
Use personalisation
Personalisation is a big issue for customers today.
Whether it's customising sales and marketing messages to tackle specific problems, or adapting services to meet the needs of an individual customer, being personal in business is critical.
When it comes to online, dynamic content is a great way to personalise what your customers see when they land on your website. It essentially changes the content a person sees based on their searches and how they've come to your website in the first place.
Livechat is another great online service because customers can engage with them directly and find what they need, rather than scouring through generic content on a website that may not be relevant to them.
Offline, the best way to be personal is to have real people dealing with customer enquiries.
Especially when someone calls you on the phone.
When a customer calls there's nothing worse than being 'greeted' by a series of automated messages asking you to dial numbers to get where you need to.
Or, worse, being met by a generic voicemail message asking you to leave a message.
Be responsive
Three quarters (75%) of customers say fast response times are the most important part of the customer experience.
Nearly half (46%) of customers expect a business to respond within 4 hours and 12% expect a response in 15 minutes or less.
Even if you can't resolve a customer's problem on the first touchpoint, they'd still prefer to know they've left an enquiry with a real person and your company is looking into it.
The worst thing you can do is leave a customer in limbo wondering not only if you're working on resolving their problem, but if you've seen their initial enquiry in the first place.
Let customers help themselves
Nearly seven in 10 customers will try to resolve an issue on their own before getting in touch with a company.
It's why the most popular search phrase on Google is "How to".
For many customers it's simply more convenient to self-solve a problem, especially if it's something deemed relatively basic.
But not enough businesses provide the resources to help customers solve problems, and it's hurting that customer experience.
More than half of customers say the main reason they can't resolve issues on their own when they want to, is because they can't find enough information online – according to Microsoft
Focus on after sales
It would be wrong to think that the customer experience ends once someone has become a paying customer.
Whether they're buying a car, B2B software or a suit, the customer experience should continue long after that initial purchase.
This focus on after sale support can be hugely beneficial.
For one, it makes it much more likely that the customer will buy from you again in the future.
Having an after sales strategy – whether it's scheduling follow ups or offering ongoing support and service – can generate more brand loyalty and keep more customers satisfied for longer.
Be customer focussed
Every business likes to say they're customer focussed.
In reality, many businesses offer good levels of support, as long as the customer connects with them how the company wants them to.
But being really customer focussed means adapting your business to fit the wants and preferences of your customers.
Communication is a prime example of where businesses fall down on customer focus.
Many businesses prefer to use 'digital' communication channels like emails, contact forms and – increasingly – chatbots.
When it comes to calls, many use automated paths where customers are forced to navigate various options to find an answer to their query.
All these options are very impersonal, don't treat customers like individuals, and often leave them frustrated when enquiries aren't responded to quickly or they get lost in an automated sequence.
From a customer standpoint, these digital channels are useful in some circumstances.
For example, 57% of customers prefer to use channels like email or social media for general enquiries.
But 40% of customers do prefer to call a business when they've got an enquiry, particularly if it's of a complex nature or needs some explanation.
The point here is, businesses need to be flexible in how they deal with customers.
They need to work out what their customers' preferences are, and adapt how they work around those.
Get feedback
The problem with asking for feedback is you might not like the answers you get back.
But when it comes to delivering and improving a great customer experience, getting feedback is essential.
Just asking for feedback can be enough to improve the image of your brand in the eyes of some customers.
More than three quarters (77%) of customers view brands more favourably if they proactively invite and accept customer feedback.
This feedback can be invaluable for figuring out where the gaps in your service are.
But you also need to act on the feedback you get.
That's something customers think could be improved.
More than half (52%) of customers believe companies need to take action on feedback provided, according to Microsoft.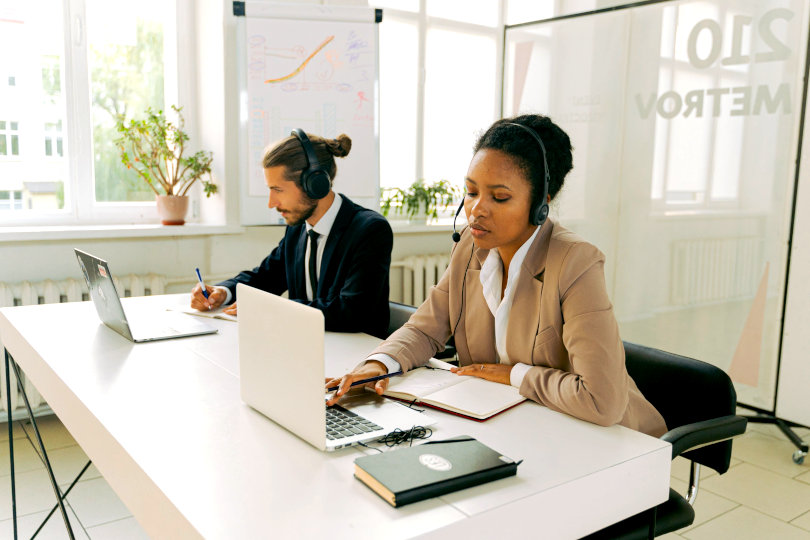 Be available
The simplest way to instantly improve the customer experience is to just be there when customers have a question or need help.
That's easier said than done when you're a small business or sole trader.
When you're busy working to complete projects so you can get paid and move onto the next one, it's easy to miss calls or forget to respond to emails.
This is when making the right investments can make the difference.
Investing in telephone answering can – for example – make sure you never miss a call from a customer or prospect and ensure all your calls are dealt with in a personal, professional way.
These kinds of services are particularly useful today when more businesses are working remotely and don't need the services of a full-time receptionist to sit behind a desk.
You only pay for the service you use, and with all your calls being dealt with you can free up more of your time to complete projects to generate revenue, and dedicate more time to following up with leads who are likely to become customers, rather than spending all day dealing with basic enquiries.
If you have a website, installing a live chat function can be an effective way of either collecting customer information, or helping visitors navigate your website to find the content they need.
And if you're going to invest in social media, make sure you have resources ready to quickly respond to any customer who gets in touch through one of your channels.
Nothing screams poor customer service like a customer's questions left hanging on social media because you haven't been able to respond.
Creating a successful customer experience for a growth focussed company
Having the right product at the right price is still vitally important when it comes to customers.
But more so than ever you can get yourself ahead of the competition simply by offering a better experience than anyone else.
If you follow the examples given here, you'll be on your way to providing an experience that will keep bringing customers back again and again.
Running a Business in the Metaverse: Virtual Services, For the Win
The metaverse is a network of the 3D world that can be accessed using a virtual reality headset. It is a virtual universe that offers unlimited possibilities. It is estimated that the metaverse would be an $800 million market by 2024. It is no wonder that top corporations are investing in it.
A question arises on how you can run a business in the metaverse. Virtual workplaces are already a reality, thanks to remote work. Virtual services such as virtual reception – including phone answering – like those provided by www.virtualreception.com.au can be offered as a precursor to running a business in the Metaverse.
Remote Work and Virtual Services
Remote work is a powerful concept that allows people to work from anywhere. They no longer need to be physically present at an office to work. They can work from home or anywhere else. A question that arises is – what about a virtual office?
At present, virtual workers work from some corner of the home. This may even change from time to time. The metaverse now makes it possible to have an infinite office that has 3 types of virtual workspaces.
1. Private virtual office
With virtual reality headsets on, you can enter your private virtual office where you do your work. You can define your virtual surrounding while being able to see the physical world around you. Productivity tools can be used directly from the virtual office.
Let's assume you need to attend a virtual meeting. With a tap of the screen, you can open the virtual meeting app and continue the meeting from your virtual office. This is the reality that seeks to transform the way we work.
2. Shared workspace
Some people find it difficult to remote work because they prefer working in a shared space with others. A close and collaborative shared workspace allows for greater productivity. Now, this can be done virtually using a shared virtual place. You can enter the shared space as a virtual avatar.
Sit in your own private office and be part of the shared workspace with others. Interact with them through your VR headset and watch the interaction in the virtual world. This is a great way to simulate an office space and ensure the best collaborative efforts.
3. The infinite office
The infinite office is a virtual office concept that goes to the next level. It takes your office just about anywhere, be it your home or even in a park. Just imagine, you are sitting on a park bench soaking in the warm sun and enjoying the pleasant weather. If you have a meeting scheduled in 5 minutes, you can continue it from the park.
All you need to do is use the VR headset to activate your virtual workspace right in front of you. You don't even need a keyboard or a screen. You can activate work apps using a gesture. The infinite office is at a conceptual stage. But it won't be long before it becomes a reality. When it does happen, it will truly take the world of work by storm. Working in the metaverse will become a reality.
[embedded content]
Working in The Virtual World
The virtual world allows you to create a virtual avatar of yourself. Your virtual avatar will work in the shared space with others. An entire office can be created in the virtual world. This will allow you to get the best benefits of a virtual workplace with a real workplace. In fact, this has already become a reality.
A Korean company Zigbang has created a VR office spanning 30 floors and the avatars of employees can move around the office. As they encounter other avatars, their mike would be activated. They can then have a real conversation through the virtual world. This can make communication more effective. This was a drawback in remote working and with virtual communication enabled, the virtual workplace would be more effective.
Young people in workplaces would enjoy creating virtual avatars of themselves. They can allow their creativity to run amuck as they create an avatar of themselves. They can make the avatar look how they want it to be.
How Would The Metaverse be?
The metaverse is different from VR (Virtual Reality) and AR (Augmented Reality). There would be many changes that are significant. Devices like the mouse and keyboard would no longer be needed. Voice would be the main way in which communication happens. Voice instructions would help operate the metaverse.
The main feature of the metaverse is the use of virtual assistants. Virtual assistants would play an important role in the metaverse. Their primary interface would be a voice and not commands typed on the keyboard. People are ready to use voice today, thanks to Siri and Alexa. Voice commands are used on mobile phones and computers.
Voice search has become popular on Google with many people preferring speaking to Google rather than typing. Smart speakers have today become the norm. It is estimated that the smart speaker market would be worth more than $61 billion by 2024. The integration of smart speakers with Artificial Intelligence is making virtual assistants more useful.
Takeaway
In the virtual world of business, people would talk to virtual assistants using voice. Virtual assistants would have a major role to play in all types of businesses going forward.
It would be important to understand who or what a virtual assistant would be in the metaverse. A virtual assistant can be a software program or can even be a person who helps and guides users in the metaverse. The program can be AI-powered. When real people function as virtual assistants, they would be those who are skilled or specialized in the area of work.
The virtual assistant can make your life easy in the metaverse. They can help you keep track of your work and remind you of the things to do. They can even help you in your personal life with cooking, fitness tips, and even dating advice. Virtual personal trainers and virtual child care providers would be available to help you in the metaverse. These virtual assistants will be able to do more in the virtual world than in the real world.
How an AI-enabled Workforce can Bridge The Skills Gap and Solve The Labor Shortage
Even as fears grow about a looming recession, US workers continue to quit their jobs in record numbers — indicating no end to the Great Resignation.
Small business owners, particularly those in industries like field service that need workers with technical skills, face additional complications. Baby Boomers are moving into retirement and taking their hard-earned expertise with them, while younger workers are reluctant to even consider entering the field service industry. Those that are entering the industry face a growing skills gap that impacts costs and service.
Some of the industries experiencing the brunt of these challenges include manufacturing, engineering, logistics and any job that requires specialized knowledge and expertise required to perform specific tasks. The good news? There's a lot that can be done across sectors to overcome these challenges and help is on the way — even the smallest of companies have the power to overcome these challenges and enable their workforce to work smarter (not harder).
It all starts with the power of AI.
Can Small Businesses Really Benefit from AI?
What many people don't realize is that the same artificial intelligence that makes sense out of those piles of big data collected by large corporations is available to smaller organizations as well, helping to resolve persistent challenges and improve workflow across nearly every industry.
Take a look, for instance, at the field-service sector, where thousands of small businesses either contract with major manufacturers to provide repair-and-maintenance service or independently build their own base of customers. Field service requires dispatching workers or contractors to specific locations (typically the customer's location) to install, repair, or maintain equipment or complex systems.The segment is growing by nearly 12 percent a year.
It's a labor-intensive business, and owners of field-service companies find the mass retirement of veteran technicians or field service workers particularly worrisome. Many Baby Boomers now entering their retirement years have amassed decades of hard-earned industry expertise that extends far beyond the instructions in any service manual. They possess valuable skills, including the ability to make the right fix during the first visit, which has been passed from one generation to the next.
But Where is The Next Generation?
Jobs in the skilled trades have proven difficult to fill in recent years, and available applicants are far and few between. A recent survey found only six percent of high school graduates hoped to find a career in repair-services or the skilled trades.
An analysis by Fortune Business Insights found the lack of skills among workers is directly restraining growth of the field-service industry.
Managers are increasingly facing challenges with the younger workforce and this is often due to the lack of resources to train them. Experienced technicians don't have the time to train new employees the way they used to and machines are becoming more and more complex, which increases the amount of hours it takes to train. Making matters worse, employee dissatisfaction is increasing and frustrated workers are quitting, leading to openings that are hard to fill.
Nimble new software is playing an important role in bridging the skills gap among providers of field-repair services. Big-data analysis and artificial intelligence has the ability to capture technical expertise, share it with field-service workers across generations and help service organizations deliver higher customer satisfaction and improve workforce productivity.
My company, Aquant, for instance, used industry data when we developed our AI-powered appliance repair software, Service Hero. The initial success of Service Hero for Home Appliances encouraged us to widen our appliance repair apps to include Service Hero for Food Equipment, which supports the technicians who service equipment in commercial kitchens.
Essentially, our new repair app takes practical information and expert tips gathered from veteran technicians, combines that knowledge with information provided by appliance manufacturers, and stirs in the insights from technicians who report back the results after they've used Service Hero. Through the power of AI, technicians have the information they need right on their phones and no longer need to cull through a manual, search for a YouTube video, or call a more-experienced coworker for help.
The primary objective of the technology is to turn every service technician, even the newest apprentice, into an expert. Users of Service Hero report they are able to resolve issues more quickly, become more self-sufficient, and increase their first time fix rate. This, in turn, allows owners of field-service businesses to hire from a wider pool of less-experienced workers, allowing companies to scale up their operations at a faster pace.
Not only does this technology help fill the knowledge gap, it's proven to be a useful tool for recruitment and retention of new technicians. Younger workers are accustomed to using apps and technology to solve problems – this software makes their job feel more relevant and less archaic, while giving them the confidence to complete tasks with minimal supervision. This in turn boosts their self esteem, minimizes frustration and ultimately, reduces turnover.
Big Data to The Rescue
Service Hero is just one of the ways that big-data and AI tools are impacting entrepreneurs and owners of growing small businesses.
Denver-based Veritone Inc., for example, helps owners of franchise locations improve their employee-recruitment processes with PandoLogic, a tool that increases the number of qualified applicants, decreases the time to find and hire, and replaces inefficient processes with AI-powered recruiting solutions.
PandoLogic's AI tools have been adopted by owners of staffing agencies to reduce the headaches and inefficiencies involved with sorting through the hundreds of thousands of job boards where openings are posted these days.
Moveworks, a company headquartered in Silicon Valley, brings the power of AI to human resources functions. Its conversational chatbot provides answers to those routine questions that employees ask every day: Do we get the day after Thanksgiving as a paid holiday? How do I file an expense report?
By automating these conversations, Moveworks saves time and energy and reduces the tedium faced by HR professionals who are burnt out from answering the same questions again and again.
Labor shortages, skills gaps and other challenges over the past few years have made it significantly more challenging for entrepreneurs and small business owners to scale their businesses. But the good news is that technology is here to act as the driving force for positive change. Small business owners can feel more confident with the help of AI and machine learning tools that have the ability to derive higher level insights from big data and solve key challenges within their organization.
Those who leverage these tools will stay ahead of the competition and be recognized as a leading employer, subsequently impacting talent retention and overall workforce productivity – and those who don't run the risk of getting left behind.
12 Tips to Banish Self-Doubt and Boost Your Confidence as an Entrepreneur
When you're just starting out as an entrepreneur, it can be easy to have self-doubts. What's one tip you have for building your confidence as an entrepreneur, and why is it effective?
These answers are provided by Young Entrepreneur Council (YEC), an invite-only organization comprised of the world's most successful young entrepreneurs. YEC members represent nearly every industry, generate billions of dollars in revenue each year, and have created tens of thousands of jobs. Learn more at yec.co.
1. Remember That Self-Doubt Is Natural and Healthy
Here is a secret: Everyone doubts themselves at some point. Doubt is natural and healthy, especially when you first begin dipping your toes into new waters. You have the choice: You can tiptoe into entrepreneurship or jump headfirst. Risk will surround you either way, but what you can control is your own energy and response to hardships. Just don't let doubt keep you on the sidelines forever.
– Ashley Sharp, Dwell with Dignity
2. Find a Trusted Mentor
Find a mentor or a like-minded community. You'll often come across naysayers while on your entrepreneurial journey, which can lead to self-doubt. The best way to overcome this is by finding someone who's already achieved what you're after, or to surround yourself with other people who are on a similar journey (i.e. starting their own companies). Having a supportive community is key to success.
– Brian David Crane, Spread Great Ideas
3. Write a Desire Statement
Assuage self-doubt by writing a desire statement. This is the goal and reason for why you show up to work every day. Write down what you want to attain and, more importantly, why this is important to you. Read that statement every morning before starting work and at the end of your day to serve as a powerful reminder of your purpose for being an entrepreneur and the importance of your work!
– Jacob Tanur, Click Play Films
4. Change Your Mindset
Learn to productively process the criticism, failures and setbacks. This helps you to frame situations with more of a positive mindset since it's easy to feel down when things aren't going your way. However, accepting that growth doesn't happen in a straight line and then using each road bump as a learning opportunity can enable you to overcome doubt and embrace the learning process.
– Firas Kittaneh, Amerisleep Mattress
5. Take a Break
Take a break from your work and do something else. It doesn't matter what you do, but it will give you a chance to clear your head and get perspective on your work. Some entrepreneurs find it hard to build their confidence because they feel like they need to work all the time. But that's not the case. Taking breaks can be beneficial for you and help you feel better about yourself.
– Kristin Kimberly Marquet, Marquet Media, LLC
6. Gradually Challenge Yourself
At a certain point, the only way to properly build your confidence is to go out into the world on your own and make things happen. Try to get small wins under your belt and gradually challenge yourself and your abilities in small ways, increasing the stakes as your abilities and confidence grows.
– Salvador Ordorica, The Spanish Group LLC
7. Track Your Progress
Writing out your daily progress reminds you that you are progressing. Having monthly check-ins allows you to reflect on where you were and where you are against where you planned to be. This is effective because it ensures you are on track and mentally assures you that you are progressing.
– Kripa Shroff, AK Multinational LLC
8. Build a Support System
Surround yourself with like-minded people. When you have a support system of entrepreneurs, it becomes more difficult to let self-doubt get in your way. Learn from those who have the success you're after. Connect with mentors and consultants. It's this personal growth that will help you build your confidence as an entrepreneur.

9. Develop Your Whole Self
If you derive your personal value only from entrepreneurship, you will have a rough time — especially early on. The best way I learned to develop self-confidence was to grow as a whole person. If you continually focus on improving your leadership, skill set, mindset and physical and spiritual health, the areas you have doubts in will be drowned out by the competence and confidence developed all around.
– Nic DeAngelo, We Buy Loans Fast
10. Think About Your Past Achievements
We all have our bad days when we start doubting our capabilities. At such times, think about your past achievements. This trick works because it helps you remember what you're capable of and motivates you to continue working harder to achieve your goals.
– Thomas Griffin, OptinMonster
11. Trust in Your Reason
As entrepreneurs, we don't always understand the path or how to get the results we want. We do understand that we will do whatever it takes to get there because there is an internal factor that causes us to push on when we don't have all the answers. Focus on that internal push and trust in your reason for pursuing your purpose. The rest will fall into place.
12. Remember Your 'Why'
Recognize that doubt is OK. You need to be willing to take a risk and give your all while doubting yourself. If you start feeling self-doubt, remember why you are in the business. You started your business for a reason. Don't ever forget that reason. That will help you feel your doubt and then turn it into a strength. Appreciate yourself and all of your talents!