How a 24/7 Answering Service Can Give Your New Business a Boost
Businesses are competing day and night to overcome the pandemic slump and it is no secret that things get pretty rough for small business owners daily. The hectic routine that challenges the new business owners can turn things messy and can hurt the repute of your new office.
New business owners need to understand the importance of repute and client services to boost their business. Customized calling plans can aid in creating a reputable image of your business in the market. This article will provide reasons why you should get a 24/7 answering service for businesses to boost performance.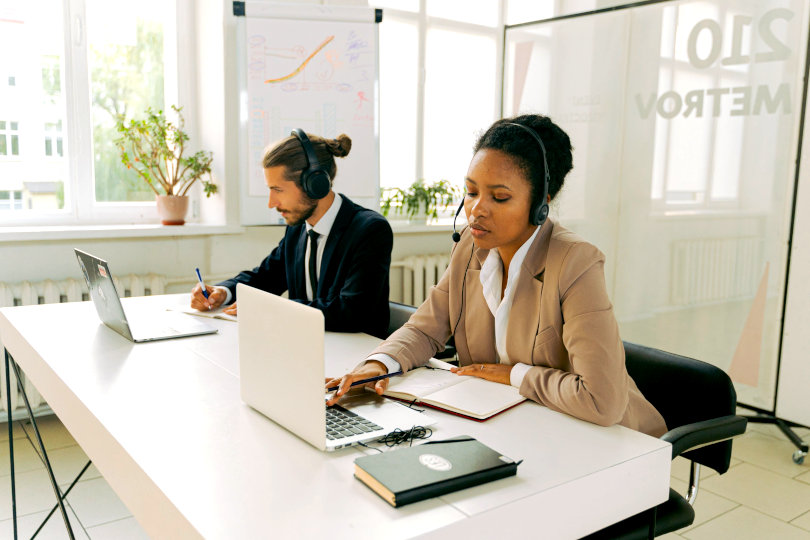 Let's look at how a simple round the clock answering services can help you gain the upper hand your business needs.
1. Cost-Effectiveness
One of the advantages of live 24/7 answering service is that it is economical for new businesses. It may take time for business owners to realize this but eventually, it will lead up to a lot of savings.
Answering services are more affordable than hiring people to make calls for your business. A full-time employee for calling can be expensive and can cost thousands depending on the location you are operating from. A top-quality answering service will not only save your time from interviewing people for calling but also it will have less cost. Such answering services provide accessibility, affordability, and professional service.
2. Customer Reach 24/7
You cannot of course interact with your clients 24/7 by hiring a living human for your new business. To stabilize your new business, the key is to keep your engagement and communication with your clients.
It is important to answer your customers when they call. This will impact your clients' opinions as whenever they call they will speak to a living person and will have the satisfaction that their queries will be answered soon. Missed calls and messages are nothing but a bad omen for your new business.
If your clients are unable to contact you, they will likely lose interest to go for your company. Business owners should provide consistency to their customers, which will make their company more reliable in their customer's eyes.
3. Productive Employees
It is a fact that without proper answering service, your employees have to answer the queries of clients and this will not only distract them but will also lower their productivity.
Employees can be interrupted from doing an important task which will only cost the owners later. This is where an answering service can help, acting as a force to boost productivity in your office environment. Every employee focuses on their tasks rather than answering phone calls.
4. Maximum Administrative Budget
When it comes to administrative budget, owners opting for answering services will have a big win. Attending calls is not just answering the person on the phone, it is so much more than that. It acts as a full-fledge virtual receptionist for your business.
5. Perks on Return on Investment (ROI)
It can be tough to manage thousands of dollars on marketing when you have just started your business. Answering services will link you directly to sale calls that will cut down ROI time from your promotional projects.
Partnering with an answering service will not make you miss any sales opportunities. On top of this, you will be able to have the access to hundreds of hot leads in your inbox.
6. Reliability and Consistency
Like we mentioned above, consistency is the key to reliability and repute. Customers usually want to make sure they can rely on their trusted companies. One thing more to remember is making sure your staff maintains the quality you promised your clients.
Using an answering service guarantees discipline in following procedures by your employees. The answering service has the flexibility to shuffle its activities to meet new needs with ensuring reliability and consistency.
7. Say Sayonara to Training New Staff
It can be a headache to interview new staff and hire them and train them for your daily tasks. Sometimes it can take a wrong turn if no one eligible enough is available. Considering things like full or half wages, experience, or benefits before deciding on a candidate can be a time-consuming task, and will only lead to more and more hassle.
Using an answering service will help you eliminate the struggle of training new employees and the need to monitor new employees.
8. Professional Representation
Office answering services can also benefit your business by representing your company professionally. It offers trained and high-quality services when it comes to interacting with different firms.
No need for worrying about your customers and what type of treatments they are getting. Answering service does this every day with sheer professionalism.
9. Smooth Scheduled Appointments
If your business is booming and you are handling multiple clients, managing appointments can be a huge challenge for you. It can turn into a nightmare without a cooperative staff and the right technology.
Mismanagement will result in missed appointments. These missed appointments will degrade your image in front of your clients and will make you look unprofessional.
Managing meetings over with an answering service can help you make things organized and professional. It not only simplifies things and tasks for you and your employees but also saves a lot of time from the hassle of managing a full schedule of appointments.
Conclusion
Small businesses are not that easy, especially when we are experiencing upheavals in global economics and witnessing a cut throat competition. Making a place when there are large corporations with huge budgets also makes it difficult to break into the market.
It is easy to lose control of your business and it can also lead to mental health issues. If that has already started to happen, consider getting help both professionally and personally. Hire answering services to handle the daily meetings, calls, and promotional activities.
Get yourself an answering service that meets your needs and provides answering service pricing that suits your budget.
How to Optimize Your CRM for Winning More Customers
A CRM, or Customer Relationship Management tool, is an all-embracing software solution used to manage relationships and interactions with partners, potential customers, and existing customers. CRM solutions like crm.com.au is a useful tool that can streamline the operations and functions of teams in different departments of an organization, like business development, marketing, or sales. All the important information required for the company, like client data, leads, sales opportunities, and marketing campaigns, can be stored and managed centrally with the help of CRM.
Optimizing CRM adds enormous value to the business process. It will enable businesses to strengthen their client relationships, simplify processes, and improve sales and profits.
There are several ways to optimize your CRM to win more customers. Some of them include as follow.
Automate The Basic and Straightforward Tasks
Automating daily and repetitive tasks is an important step toward improving the efficiency of your business processes. Many businesses mention a shortage of resources and time as the reason for not automating such repetitive tasks. But this is a real mistake business owners are making in this digital age.
Automation helps businesses improve customer traction. It also gives companies the capability to inspect the intricate journey towards real customer-centricity. This process might feel a bit overwhelming for budding businesses with limited experience in CRM.
CRM automation can be used to eliminate repetitive and time-consuming functions like sending newsletter subscriptions, promotion offers, follow-up emails, and other marketing efforts. This will reduce the need to write the same response repeatedly while engaging customers. It is also possible to automate sales processes like call scheduling. All of this will save precious time for team members that can be diverted to more crucial tasks, increasing productivity and boosting business growth.
Understand from Analytics
Another important feature of CRM that makes it attractive is its ability to analyze consumer behavior and trends. Not only does CRM perform the analytics, but all the data is stored in one place, making it easily accessible. This will enable companies to easily access and understand the behavior of clients and push the products and services to suit those trends.
When one marketing strategy becomes successful, businesses should analyze the reason for its success and model the next campaign similar to it.
Having a better understanding of CRM analytics will help companies and their different managerial teams come up with the best marketing strategies and solutions. All the marketing and sales strategies should be designed based on client data to yield maximum results. When the sales team is aware of the location and inclination of the customer, the salesperson can come up with novel strategies to make a targeted sales pitch. It will also improve the chances of getting a good deal. Thus, carefully learning and understanding analytics is crucial for the growth of a company.
Establish and Maintain The Portfolio of Profitable Customers
CRM helps to collect and organize all the client data in one place. The advantage of this feature is that it will enable teams and customer service agents to access how a particular issue or client was handled in a previous similar scenario. This will help the agents communicate effectively in the said scenario and provide consistent customer service by predicting the wishes of clients based on previous responses.
CRM can be used efficiently for helping agents deal with new customers or specific interactions. Specific guidelines or playbooks can be created based on earlier interactions. This will allow the customers to have an idea about what to expect, and they will be happier with the service provided.
You can also prioritize the queries and issues of the most profitable customers and get them handled by the right agent. This does not mean you should delay the issues of other customers. The issues requiring urgent attention should be prioritized above everything else.
Make CRM The Core of your Company's Marketing Strategy
It is beneficial for businesses to develop their marketing strategies and campaigns based on CRM intelligence. CRM intelligence provides critical insights into marketing, like the best technique to approach a specific market or the most successful tactic for a particular service. All of these crucial insights will assist businesses in developing campaigns that will result in agile and tactile business practices and corresponding business growth.
Long-lasting relationships can be made with customers when you give them what they want and approach them the way they desire. CRM will assist you in determining the most interactive and emerging market, the most desired products and services, and the channel receiving the most traffic.
Integrate CRM With Other Tools
Once you invest in CRM, you should remember to integrate it with other tools and internal systems used in your business processes. CRM can be integrated with enterprise resource planning systems (ERPs) to create an automated inquiry management system that is fully developed and includes all client information.
For social media listening, your CRM should also be connected to all social media accounts of your company, like LinkedIn, Twitter, or Facebook. This will keep you up to date on important topics like emerging trends, the reputation of your brand, and the impact of your marketing campaigns. All this information can be used to create better strategies for your next marketing campaign.
Update Customer Data
CRM is most effective when the data is up-to-date. Your marketing and sales strategy will only be effective if it is developed using the latest client data, like changes in preferences, location, or contact method. By designing strategies based on the changing needs and desires of the customer, your relationship with them will continuously evolve and become stronger.
Customize CRM
CRM is like the real face of your company or support team. This system plays a great role in shaping the opinion of the customer about your company. You should use CRM to create a positive and lifelong impact on your customers. Remember to meet the expectations of your clients and provide a cohesive and consistent service. Also, give focus on providing a seamless customer experience.
Conclusion
CRM is an invaluable tool that can be used for the overall development of the business. By properly optimizing it, you can get more customers and generate higher profits.
Solo Traveler to Solo Entrepreneur
I became a solo traveler to a solo entrepreneur through my love for travel.
I started traveling around 10 years ago and lived to explore the world. I was constantly trying to find packaged adventures that offered to explore off-the-beaten-path corners of the earth, but was unable to find anything. I became tired of the cookie cutter tour companies that only highlighted the touristy attractions and popular regions. Eventually, I gave up trying and decided to create my own trips. I figured if I was looking for adventures like this, then other travelers would too.
photo credit: BornWild
After 4 years of traveling solo, I combined my passion for travel and wild animal conservation and decided to start my own adventure travel company – BornWild.
I began selling unique day trips for the first two years of business which went relatively well, however profits were low. To succeed at making a business out of day trips alone, you would have to be selling the majority of weekdays and dedicate much labor to make an honest living.
Multi-day trips is where the vast majority of profit can be made so I focused into this sector and it has really paid off.
Entering into the adventure travel industry world is no easy task. If you are a solo entrepreneur that has a travel start-up, you have your work cut out.
What I found most challenging is that consumers are parting with much more money and tend to be very careful before purchasing. It takes someone a lot more thinking time and deliberation before buying a trip, than it does to buy an item of clothing for example. Selling travel requires trust built between consumer and business and it's essential for the business to have a great reputation too.
The travel industry isn't overcrowded but there is a lot of choice so it requires work and the right marketing techniques to be seen by the right buyers.
Having a socially conscious angle on your business also helps too. From a business perspective, travelers are becoming more proactive in traveling consciously and impacting the planet positively. Consumers are gravitating towards eco-friendly, sustainable and conservation based trips and adventures. It's a preference that has become highly favored in today's world.
Being socially committed not only gives your brand kudos and credibility but it helps people see how dedicated you are to doing good.
We have just devised an African Lion Safari which is a groundbreaking adventure that bridges adventure travel with lion conservation. It exposes travelers to resources and experiences you will only encounter through this adventure. It's the only adventure like this on the market and sets us apart from other companies.
photo credit: Roya Ann Miller / BornWild
Digital marketing is key when getting your business off the ground. I taught myself how to become a digital marketing expert and it's paid off in many ways. I have tried numerous marketing tactics when it comes to selling travel, from magazine articles to ads, to cross marketing, to social media, facebook live etc. I've found that the most effective way is to master the world of SEO so that you can start ranking on google and be visible when consumers are searching for an adventure. The goal is to capture people as they are ready to buy a trip and that's what's so powerful when you crack digital marketing.
My advice to all new entrepreneurs in travel is to learn to master SEO and become a digital marketing expert so you become a pro at the very beginning. This will set you up for success from the offset and be extremely beneficial to getting your business off the ground as well as throughout your whole business journey.
Tips on starting your own travel business:
Find a niche that isn't already being done
Become a digital marketing expert
Post, post, post to rank on google using SEO
Concentrate in on where your buyers are coming from
Pinpoint what search terms consumers are using when they are poised to buy and start ranking for these search terms.
Don't waste time on marketing avenues that don't work, plug away at avenues that do.
Cross marketing with other companies really helps
Make sure your customer service is 5-star and that you gain great reviews
Running a Business in the Metaverse: Virtual Services, For the Win
The metaverse is a network of the 3D world that can be accessed using a virtual reality headset. It is a virtual universe that offers unlimited possibilities. It is estimated that the metaverse would be an $800 million market by 2024. It is no wonder that top corporations are investing in it.
A question arises on how you can run a business in the metaverse. Virtual workplaces are already a reality, thanks to remote work. Virtual services such as virtual reception – including phone answering – like those provided by www.virtualreception.com.au can be offered as a precursor to running a business in the Metaverse.
Remote Work and Virtual Services
Remote work is a powerful concept that allows people to work from anywhere. They no longer need to be physically present at an office to work. They can work from home or anywhere else. A question that arises is – what about a virtual office?
At present, virtual workers work from some corner of the home. This may even change from time to time. The metaverse now makes it possible to have an infinite office that has 3 types of virtual workspaces.
1. Private virtual office
With virtual reality headsets on, you can enter your private virtual office where you do your work. You can define your virtual surrounding while being able to see the physical world around you. Productivity tools can be used directly from the virtual office.
Let's assume you need to attend a virtual meeting. With a tap of the screen, you can open the virtual meeting app and continue the meeting from your virtual office. This is the reality that seeks to transform the way we work.
2. Shared workspace
Some people find it difficult to remote work because they prefer working in a shared space with others. A close and collaborative shared workspace allows for greater productivity. Now, this can be done virtually using a shared virtual place. You can enter the shared space as a virtual avatar.
Sit in your own private office and be part of the shared workspace with others. Interact with them through your VR headset and watch the interaction in the virtual world. This is a great way to simulate an office space and ensure the best collaborative efforts.
3. The infinite office
The infinite office is a virtual office concept that goes to the next level. It takes your office just about anywhere, be it your home or even in a park. Just imagine, you are sitting on a park bench soaking in the warm sun and enjoying the pleasant weather. If you have a meeting scheduled in 5 minutes, you can continue it from the park.
All you need to do is use the VR headset to activate your virtual workspace right in front of you. You don't even need a keyboard or a screen. You can activate work apps using a gesture. The infinite office is at a conceptual stage. But it won't be long before it becomes a reality. When it does happen, it will truly take the world of work by storm. Working in the metaverse will become a reality.
[embedded content]
Working in The Virtual World
The virtual world allows you to create a virtual avatar of yourself. Your virtual avatar will work in the shared space with others. An entire office can be created in the virtual world. This will allow you to get the best benefits of a virtual workplace with a real workplace. In fact, this has already become a reality.
A Korean company Zigbang has created a VR office spanning 30 floors and the avatars of employees can move around the office. As they encounter other avatars, their mike would be activated. They can then have a real conversation through the virtual world. This can make communication more effective. This was a drawback in remote working and with virtual communication enabled, the virtual workplace would be more effective.
Young people in workplaces would enjoy creating virtual avatars of themselves. They can allow their creativity to run amuck as they create an avatar of themselves. They can make the avatar look how they want it to be.
How Would The Metaverse be?
The metaverse is different from VR (Virtual Reality) and AR (Augmented Reality). There would be many changes that are significant. Devices like the mouse and keyboard would no longer be needed. Voice would be the main way in which communication happens. Voice instructions would help operate the metaverse.
The main feature of the metaverse is the use of virtual assistants. Virtual assistants would play an important role in the metaverse. Their primary interface would be a voice and not commands typed on the keyboard. People are ready to use voice today, thanks to Siri and Alexa. Voice commands are used on mobile phones and computers.
Voice search has become popular on Google with many people preferring speaking to Google rather than typing. Smart speakers have today become the norm. It is estimated that the smart speaker market would be worth more than $61 billion by 2024. The integration of smart speakers with Artificial Intelligence is making virtual assistants more useful.
Takeaway
In the virtual world of business, people would talk to virtual assistants using voice. Virtual assistants would have a major role to play in all types of businesses going forward.
It would be important to understand who or what a virtual assistant would be in the metaverse. A virtual assistant can be a software program or can even be a person who helps and guides users in the metaverse. The program can be AI-powered. When real people function as virtual assistants, they would be those who are skilled or specialized in the area of work.
The virtual assistant can make your life easy in the metaverse. They can help you keep track of your work and remind you of the things to do. They can even help you in your personal life with cooking, fitness tips, and even dating advice. Virtual personal trainers and virtual child care providers would be available to help you in the metaverse. These virtual assistants will be able to do more in the virtual world than in the real world.