Beating the Impossible: Your Security is Outpaced and Outnumbered
Since email's inception in the 1970s, the number of third-party apps and systems we rely on has only increased throughout the last decades. Nowadays, enterprise app sprawl has bloated to the average department relying on dozens of apps. The production of these apps has increased, too, frantically keeping pace. These have overwhelmingly left one component gasping in the dust: security.
Cybersecurity is already on the back foot. Third-party solutions such as Web Application Firewalls (WAF) are no longer mere suggestions to help keep your organization up to date; a headache-free WAF is now a necessity.
Exploits Outpace Patches
Software development runs in cycles. Following an agile framework, teams will work in week- or fortnight-long sprints. After each iteration, product teams deliver a working app, collecting feedback and re-aligning goals, before beginning the next sprint. This process is very rapid, and focuses on bringing the Minimum Viable Product (MVP) to the marketplace. Makes perfect sense from an economic perspective – after all, only an operating app can make money. However, one major flaw of this development process is in its habitual oversight of security. 3 out of 4 apps produced by software vendors do not meet OWASP Top 10 standards, meaning that they fall foul of the most common vulnerabilities.
The majority of security flaws are identified and then patched – in that order. Even worse, the average patching time is between 60 to 150 days.
Compare that with the dark market software supply chain. Many pieces of malware operate on a ransomware-as-a-service model; here, affiliates will pay the original developers a set amount, in order to utilize their malicious code. This is often a percentage of what the affiliates gain from a successful ransom. The business model that these cybercriminals rely on is inherently viral, as the same code can be replicated and weaponized against millions of potential victims. Even worse – once a RaaS gains a successful reputation, more and more affiliates join, seeking their own piece of the pie.
Finding and exploiting vulnerabilities naturally outpaces patching, which is why vulnerability catalogs play a vital role in maintaining the health of the overall security environment. Common vulnerabilities, once discovered in the wild or by researchers, are assigned a CVE code. Many of these are then cataloged in industry-specific lists. For example, CISA maintains an authoritative source of vulnerabilities. It is mandatory that federal and state bodies adhere to the patch requirements included.
The number of vulnerabilities within catalogs such as the US National Vulnerability Database has skyrocketed in the past few years; 2021 saw 18,374 vulnerabilities discovered in production code. Interestingly, however, there were fewer high severity bugs than in 2020, indicating that attacks are becoming increasingly multi-faceted and complex.
Brand-New Breaches
Some of 2021's vulnerabilities were relatively niche; others were massive. Microsoft Exchange is one of the largest mail servers available, used by hundreds of thousands of organizations around the world. Multiple vulnerabilities were found in this server throughout 2021, one of the worst of which was the ProxyShell attack.
ProxyShell and ProxyLogin both refer to attack chains that focus on privilege escalation and authentication bypassing. Attack group HAFNIUM made particular use of this vulnerability, targeting US-based organizations across infectious disease research, charities, and higher education. Across the world in the Middle East, researchers noted that this attack chain was often utilized to implant ransomware.
It Just Gets Worse
While new vulnerabilities are discovered daily, many attacks in the wild continue to rely on old vulnerabilities.
Equifax's massive data breach in 2017 was caused by a months-old weakness in the Apache struts function. Apache struts is an open-source web app framework that in this case was used for form data. The vulnerability meant that without logging in, without even uploading any form data at all, an attacker could perform remote code execution.
The initial data breach saw the login credentials of employees being stolen. The attacking group then used these details to gain access to Equifax's credit monitoring databases. From there, they exfiltrated the private records of almost 150 million Americans, 15 million British citizens, and 19,000 Canadian citizens.
As of this year, the data has not been put up for sale on the dark web: this is because it was an act of political espionage by the CCP-founded hacking group People's Liberation Army.
How to Keep Ahead
Given the distance between an exploit's discovery and its use in a genuine attack, you'd be forgiven for thinking that data breaches are merely the cost of doing business. Many organizations already hold this philosophy, particularly as they grow.
However, this kind of thinking is a complete failure to both your customers and stakeholders. Ransomware criminals in particular operate off the assumption that businesses will pay them to go away. Simply ignoring the problem – or worse, procrastinating on a solution – directly encourages these criminals.
The answer lies in virtual patching. Sometimes called vulnerability shielding, virtual patches act as a temporary bandage to prevent a known or unknown vulnerability from being exploited. Solid virtual patching implements layers of policies that identify, prevent and intercept an exploit from making its way from the attacker to your critical systems.
A Web Application Firewall (WAF) is a firewall that encopasses an app. Monitoring the perimeters, the WAF will compare every connection it makes with its own customizable white- and black-list. A positive WAF model will allow any connection apart from a select few; whilst a negative WAF model only allows specific connections. This latter option should be default for non-public facing pieces of infrastructure, as it inherently prevents attackers from hijacking and gaining control via a third-party command and control server. A well configured WAF frees up your time and resources for the critical security tasks that matter.
The second layer of virtual patching should be your Runtime application self-protection (RASP) solution. This sits within the app itself, directly monitoring its behaviors. Once it spots any behavior deemed un-normal, it reports it and can terminate the activity. This allows for the prevention of even brand new, zero-day attacks, such as the Microsoft Exchange ProxyShell issue.
SAP Plant Maintenance: Everything You Need to Know
Most plant operators today perform various duties and tackle many challenges. If not handled right, these challenges could lead to disasters, such as downtimes, production losses, and higher operational costs. So, it would help if you kept the operations smooth as a SAP plant manager or operator by mitigating the risks involved.
For this, you can use SAP Plant Maintenance (PM,) explicitly designed to handle the challenges of modern plants and help operators manage things efficiently, leading to better optimization.
Here, you will learn about the core components of SAP PM, its benefits, and operations.
What is SAP Plant Maintenance?
You can integrate the core components of SAP Plant Maintenance to other modules, including Material Management (MM), Quality Management (QM), Production Planning, Sales and Distribution, Finance, Controlling, and HR (Human Resources).
SAP PM allows you to automate the tasks involved in these processes, including maintenance and repairs. Besides this, it also lets you manage assets by documenting, identifying, and handling issues with them. For these tasks, you can use the following three modules to plan maintenance tasks and manage technical objects, equipment, workflow notifications, and orders.
Moreover, you can also integrate SAP PM with other modules. The data is always up to date and helps trigger functions in the processes as required. Besides this, you can record problems, plan labor and material procurement activities, and settle costs.
Why Do You Need SAP Plant Maintenance?
Every plant operator must ensure that all the processes and components function smoothly to reduce downtimes and operational costs. So, to manage the plant successfully, you will need a stringent regime that is efficient and optimizes plant equipment effectively. SAP Plant Maintenance helps in this by:
1. Identifying Conditions
You can preschedule the inspection process so that SAP PM can establish the equipment's current condition.
2. Restoring Functions to Optimal State
After inspecting the condition of plant equipment, you can schedule SAP PM to perform repairs as required to restore functioning to an optimal state. The optimal state, in this case, would be to carry on without any interruptions.
3. Maintaining Current Conditions
You can also schedule SAP PM for regular plant maintenance to minimize breakdowns. In this process, SAP Plant Maintenance locates possible weak spots in the equipment and regularly inspects them, performing minor repairs, if required.
Objectives of SAP Plant Maintenance
SAP PM ensures that all the equipment in the plant functions smoothly, without any interruptions. Also, by offering continual support, Plant Maintenance makes sure that all systems are always up and running, thus, minimizing disruption in the production process.
The cost incurred due to breakdowns can be significantly high. However, SAP Plant Maintenance ensures no such breakdowns occur and helps prevent productivity losses.
Benefits of SAP Plant Maintenance
SAP PM is helpful for specific users, including Maintenance and Operational Managers, Maintenance Staff and Technicians, Production Line Workers, and Purchase Departments.
1. Maintenance and Operational Managers
SAP PM helps Maintenance and Operational Managers get the information they need regarding equipment performance and maintenance requests. The modules can help simplify the entire maintenance process and the decisions concerning reporting work plans, work in progress, and work completed. Moreover, the management can also benefit from Plant Maintenance. They can use them to plan the budget required for equipment maintenance, including replacement, recording maintenance history data, and the relative costs involved in these processes.
2. Maintenance Staff and Technicians
SAP PM can help Maintenance Staff and Technicians smoothen the processes, making them more efficient.
3. Production Line Workers
Production Line Workers can use SAP PM to manage maintenance problems and improve the overall efficiency of production processes.
4. Purchase Department
SAP PM helps purchase departments buy the equipment required, including spare parts, to help ramp up the production process.
Final Thoughts
All businesses have production processes, and they will need to implement stringent measures to ensure that the plant functions smoothly. SAP PM helps with this by providing a comprehensive solution to manage the production and maintenance processes by mitigating the risks involved.
Moreover, integrating SAP PM with other modules helps such as Materials Management, Quality Management, Sales and Distribution, Finance, Control, and Human Resources, can help achieve maximum overall efficiency.
You Deserve the Buzz – 6 Strategies to Attract Earned Media Mentions
Your growing business probably relies on multiple digital marketing and advertising channels to grow its audience, drive conversions, and increase sales. You also probably spend more on these channels than you'd like. And the ROI isn't always there — "feast or famine" is the norm in this business.
There's another strategy you should consider: attracting earned media mentions.
True earned media doesn't drive conversions and revenue directly because there's no built-in conversion function. These mentions stand apart from your sales funnel.
And yet earned media has higher potential ROI than any paid digital marketing or advertising channel. That's because successful mentions not only build buzz but convey credibility. Channels you touch directly can't do this because savvy prospects know you have a heavy hand in them.
Want to make earned media work for your growing business? Use these strategies to attract more organic mentions and build quality buzz around your brand.
1. Focus on Your Origin Story
Your origin story might be old news to you, but it's compelling to others. Focus on the parts that set you apart from your fellow founders — specific instances of adversity earlier in your business journey or before, for example.
Make sure your story is relevant to where you are in the present day, of course. This profile of Steve Streit, founder of pioneering neobank Green Dot, is a great example — a clear through-line from Streit's challenges early in Green Dot's growth to his current successes.
2. Give "Friendly" Interviews That Are Likely to Be Published
Streit's profile is also an example of a "friendly" interview: a media encounter that's likely to result in publication. (You're probably aware that many media interviews never produce anything tangible.)
It's not easy to find friendly interviews. Search for your closest competitors online (or entrepreneurs you consider peers — they don't have to be competitors) and look for positive media mentions in smaller, niche publications that seem hungry for content. Focus your pitches there.
3. Make Yourself Available on HARO
Help a Reporter Out (HARO) is the best digital platform for people seeking earned media exposure in high-value outlets. Create a source account (not a reporter account) and provide as much detail as possible about what you can offer. Then, sign up for relevant query emails and respond quickly when you see an opportunity.
4. Build Your Own Media List (Local and Niche Are Best)
HARO isn't perfect, and you can't count on PR pros adding you to their own source lists before you've attracted significant earned media attention.
So get a head start by building your own media list. The highest-value targets are local outlets and niche publications relevant to your industry. Both tend to have high content needs and lower standards (no offense) for sources. Pitch them when you have a truly compelling piece of news to share — but less is more here, or you risk turning them off.
5. Draft and Send "Articles for Consideration"
This is a controversial idea, and it does require more work on your end, but it can absolutely pay off. For various reasons, most true earned media publications won't run prewritten articles, but some do pull quotes from them or use them as context (with attribution). So the time spent drafting these pieces could be offset by the time saved not sitting for interviews.
6. Be Active and Eye-Catching on Twitter
Finally, have an active presence on Twitter specifically, even if you're not familiar with or a fan of the medium. As the media's favorite social media platform, it's a necessary evil.
Don't Expect Them to Do All of the Work
Earned media is not a totally passive investment. As we've seen, you have to do a lot of work upfront to attract even one mention, and any one mention isn't guaranteed to gain traction with your prospects.
But that doesn't mean you shouldn't try. Investing in earned media now, as you're growing, helps build a baseline of credibility and visibility that you'll be glad you had.
Why Real-Time Tracking is Essential for Efficient Supply Chain Management
With the massive increase of online shops and shoppers in the digital marketplace, the number of shipping and delivery options also grows. Online consumers enjoy being able to track their packages and watch as they get closer to their destination. Apart from the serotonin boost, it gives the customers waiting for their parcel.
Why is real-time tracking essential, especially in having a more effective supply chain management? Read on to find out.
What is Real-Time Tracking?
A real-time tracking system, sometimes called Real-time locating system (RTLS), is a tracking method that utilizes or uses GPS together with logistics databases to track or identify the exact track and location of any parcel at any given time.
The collected data, through the help of GPS and logistics databases, are updated in real-time for immediate access and assessment. The process of real-time tracking allows the customer to obtain information about the whereabouts of their parcel in the whole supply chain.
Keeping track of the packages released by the company brings a lot of impacts not only on the company's reputation but also on the effective management of its supply chain.
The primary objective of real-time tracking is to provide transparency so necessary alternative routes can be taken when dilemmas and problems occur.
Supply chain management (SCM) includes product development, sourcing, production, and needed information systems and logistics to coordinate these activities. A chain and network of suppliers are made to manage the supply chain that transports products, raw materials, and suppliers.
How Does Supply Chain Management Work?
Supply chain management encompasses all aspects of the manufacturing process, from the procurement of raw materials to the delivery of finished items. Keeping operations operating smoothly is an essential part of supply chain management to provide customers better value and stay ahead of the competition.
According to supply chain management (SCM), most products on the market result from many companies working together to produce them.
Contrary to popular belief, firms are now starting to recognize the importance of supply chains as a strategic asset. Using supply chain management, businesses can deliver goods faster, guarantee that items are always accessible when required, eliminate quality concerns by doing regular quality checks, and make returns easier, eventually increasing value for both the business and its consumers.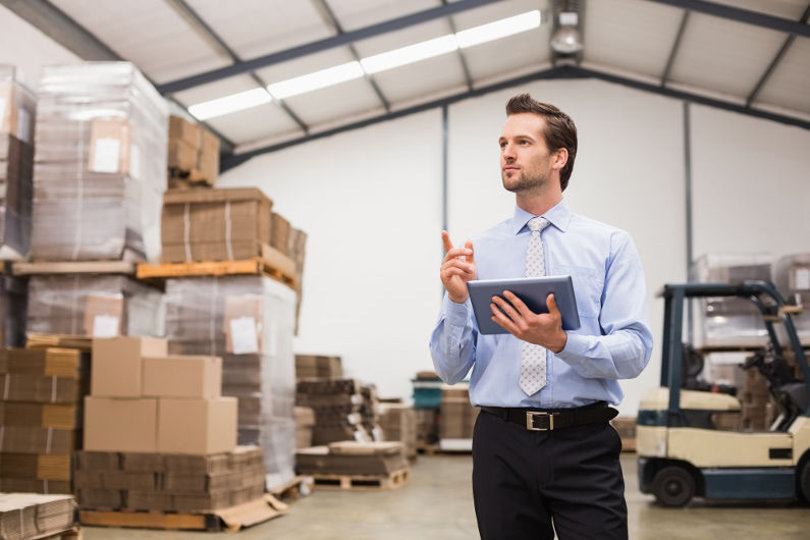 How Can Real-Time Tracking Help Improve the Efficiency of Managing the Supply Chain?
Real-time tracking of any parcel or package delivery plays a vital role in the whole supply chain management.
It Reduces the Risk of Loss
Having real-time updates regarding the parcel's precise and accurate location can help identify whether the package is going through heavy traffic or delays. Through this, alternative routes, solutions, and other necessary measures can be taken to handle the traffic.
On the company's end, the supply chain is also being monitored by the corporation's stakeholders.
Real-time tracking provides transparency and accurate information, which improves the reliability and good reputation in both the customers' and the stakeholders' mentality.
When deliveries are delayed, the company's following the best alternative route would also leave a good and better impression regarding the company's handling and management of a crisis.
It Enhances Effective and Productive Decision-Making
A supply chain manager must have good decision-making skills in taking movement or decisions related to the company's goods and services.
Gathering the necessary information from the real-time tracking and assessment of these data will help the decision-maker identify the best solution or alternative way to the problem.
In line with the reduction of loss, real-time tracking also improves the ability of a company to arrive at a sound decision when delays occur.
Since real-time monitoring allows the company to find issues in no time, the company will be able to manage the problem and provide profoundly suitable solutions promptly before the situation worsens.
A deliberate method of processing the data obtained through real-time tracking will define alternatives and organize the information into thoughtful decisions.
Having a sound judgment amidst the technological errors and delays would also bring about good impacts and impressions of the company to the stakeholders, clients, and future customers.
On the other hand, arriving at a wrong and inappropriate decision can result in adverse consequences, even risking existing customers and clients.
It Practices Transparency and Improves Customer Service
Customer service is among the most pivotal components of the logistics and the management of the supply chain. Without customer service, the company would be unable to attract customers and sell its goods and services.
Real-time tracking would practice transparency, which in turn produces trust and goodwill. Aside from this, it also protects the company's reputation among its business partners, prospects, investors, employees, and stakeholders.
Transparency also leads to better customer service since the customer would prefer to be involved in the overall process concerning their product. Customer service plays a vital role in improving the supply chain.
Good relations with the customer through exemplary customer service would also create a good image for the company.
What Do These Mean?
In a general sense, real-time tracking would improve the supply chain management efficiency since most customers value transparency as it is typically associated with openness and honesty. In addition to this, any crises that will arise during the shipment process will be immediately determined and resolved.
Despite being deployed in several places, having real-time tracking through GPS still allows the company to have direct control and management over the vehicles carrying the parcels.
Together with increased productivity, this also reduces other costs that may be triggered when problems arise. As a result, comprehensive supply chain management would become more efficient and effective.
Conclusion
Efficacious supply chain management primarily relies on precise and fast-tracking products, from raw materials to goods or services. Information and data concerning the parcel's whereabouts benefit the customer, company, and stakeholders. Thus, companies need to have a reliable and transparent shipping partner.
Tive allows you to track your packages through GPS anywhere in the world. With transparency as our priority, Tive would lessen your worries and boost your excitement in waiting for your order to reach your doorstep.